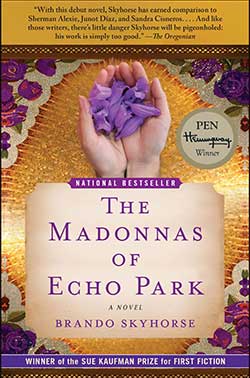 Title:
The Madonnas of Echo Park: A Novel
Published by:
Free Press
Release Date:
February 8, 2011
Contributors:
Brando Skyhorse
Pages:
240
ISBN13:
978-1439170847
Add on Goodreads
Buy the Book:
Amazon
, 
Barnes & Noble
, 
Indie Bound
"Skyhorse is a generous writer, a caring writer, an observant writer, and these are among the first things we ask of chroniclers with heart and soul."—From the PEN/Hemingway award citation
Winner of the Pen/Hemingway
Winner of the Sue Kaufman Prize for First Fiction
The Madonnas of Echo Park is both a grand mural of a Los Angeles neighborhood and an intimate glimpse into the lives of the men and women who struggle to lose their ethnic identity in the pursuit of the American dream. Each chapter summons a different voice--poetic, fierce, comic. We meet Hector, a day laborer who trolls the streets for work and witnesses a murder that pits his morality against his illegal status; his ex-wife Felicia, who narrowly survives a shooting and lands a cleaning job in a Hollywood Hills house as desolate as its owner; and young Aurora, who journeys through her now gentrified childhood neighborhood to discover her own history and her place in the land that all Mexican-Americans dream of, "the land that belongs to us again."
Reminiscent of Luis Alberto Urrea and Dinaw Mengestu, The Madonnas of Echo Park is a brilliant and genuinely fresh view of American life.
Praise for The Madonnas of Echo Park
Named one of the best books of 2010 by The Seattle Times
Pick of the Week, The Boston Globe
"Brando Skyhorse brings a chronically invisible community to sizzling, beguiling life. . . . With this debut novel, Skyhorse has earned comparison to Sherman Alexie, Junot Diaz and Sandra Cisneros. . . . And like those writers, there's little danger Skyhorse will be pigeonholed as an ethnic writer: his work is simply too good. . . . In The Madonnas of Echo Park, Skyhorse claims the disparate elements of his life and spins them into gold."
—The Oregonian
"Culture, identity, and politics are just a few of the threads masterfully woven through The Madonnas of Echo Park…What happens to a neighborhood that's overrun by gentrification and warring intercultural factions? Violence, for one thing—but also, finally, in Skyhorse's indelible storytelling, something that begins to look like hope."
—O, The Oprah Magazine
"Memorable…Brando Skyhorse connects us with voices that typically dwell in the background of everyday Los Angeles life but here are granted license to tell their own harrowing, hair-raising, heartwarming, hilarious, and fascinating stories…Startlingly poignant."
—The Seattle Times
"Skyhorse's novel has hit home…Skyhorse draws from his childhood memories to tell the story of Echo Park as he knew it…[His] outsider status helped him develop an observer's eye for the people he, his grandmother, and his mother encountered."
—Mandalit del Barco, National Public Radio
"This first novel tells the intertwining stories of three Mexican-American families in the Echo Park neighborhood of Los Angeles, from the 1980s to today. . . . As the narrators pass the story backward and forward in time, the characters unknowingly bounce off one another like particles in the Large Hadron Collider."
—The New York Times
"A revelation . . . the summer's most original read . . . extraordinary. . . . The novel is richly detailed, offering varying perspectives that collide into a singu- lar narrative from an evolving neighborhood in the shadow of downtown L.A. (Think Gabriel García Márquez fused with Junot Díaz.) . . . The immigrant experience may very well be the defining narrative of the United States in the 21st century. When juxtaposed against its literary rival, the self-confession, the results can be breathtaking as exhibited by Skyhorse's startling author's note at the start of the book. . . . Powerful."
—Examiner.com
"Gritty . . . a bittersweet love letter to the neighborhood [of Echo Park]."
—Los Angeles magazine
"A literary glimpse into the often unseen world of Mexican Americans trying to make it as Americans."
—USA Today
"The work of a significant new voice, full and rich and richly subtle. . . . 'Rules of the Road' is filled with so much texture and detail and humanity and the kind of weirdness that seems utterly true and believable [and] the rest of the [book is] filled with the same qualities. . . . Also, for a man, Skyhorse has an amazing eye and ear for the way women talk, look, behave—and think and feel. . . . Brando Skyhorse's first book is the real deal."
—Chauncey Mabe, Open Page, Florida Center for the Literary Arts
"Skyhorse's control and capability as a storyteller make the story clear, compel- ling, and meaningful. . . . Above all, The Madonnas of Echo Park is about people trying to understand why their world is changing. . . . There is much to marvel at, beginning with Skyhorse's excellent writing. . . . Its structure, repeated descriptions, interlocked plot elements, even that metafictional "Author's Note," all work to do the most important thing fiction can do: create a complex world in which readers can practice empathy."
—The Rumpus
"Wonderful . . . moving, lyrical . . . a complex, multifaceted portrait of the com- munity [of Echo Park]."
—Washington City Paper
"I really loved this book. Skyhorse successfully finds the voice of such vastly different people and it is all brought together with lyrical beauty, even when he writes about the gritty side of life."
—Latina-ish
"Social fiction meant to shine a light on the lives of Mexican immigrants and illegals. . . . The story is bright with description, and dialogue so well-written you can hear it."
—Winnipeg Free Press
"Told in a series of vignettes so strong and well-written they could be stand- alone stories, The Madonnas of Echo Park centers around the life of one young woman, Aurora Esperanza, as told by the men and women of her east L.A. community. It addresses the issues of immigration and assimilation, of being Mexican and American, and of staying true to who you are and where you come from. Skyhorse has written such a beautiful, poignant and well-crafted novel that I feel compelled to encourage everyone to pick it up and immerse themselves in Echo Park."
—Inkwood Books Newsletter
"Skyhorse gives life to people on the peripheries of Los Angeles who are often invisible."
—New York Journal of Books
"Skyhorse devotes a chapter each to a panoply of quirky characters who people the streets, all connecting to a girl caught in the gang wars that ravage the area."
—Asbury Park Press
"Brilliant. Go buy this book right now."
—Sewtransformed.blogspot.com
"To embrace a community, to capture its fabric, to syncopate its rhythms, lives, views and experiences is a difficult feat. But Brando Skyhorse manages to do just that with his breathtaking and, at times, soul-churning novel. . . . Skyhorse [finds] breadth and diversity in Echo Park. . . . Stories zigzag through the book, introducing lives unique and full, bisecting one another at times, standing at solitary edges at others. . . . [W]e are carried away by this intricately crafted tale. Taken together, the tales spin around the axis of a few streets yet splinter off into infinite dimensions."
—Chattanooga Times Free Press
"Vivid. . . . These are the people we pass every day and never give much thought. Now Skyhorse demands our attention as he deftly humanizes their stories. . . . Eye-opening and haunting, Skyhorse's novel will jolt readers out of their complacence."
—Booklist
"Vivid. . . . Skyhorse excels at building a vibrant community and presenting several perspectives on what it means to be Mexican in America, from those who wonder 'how can you lose something that never belonged to you?' to those who miraculously find it."
—Publishers Weekly
"First-time novelist Skyhorse offers a poignant yet unsentimental homage to Echo Park, a working-class neighborhood in east Los Angeles where everyone struggled to blend in with American society but remains tied to the traditions of Mexico. . . . Essential for fans of Sherman Alexie or Sandra Cisneros but with universal appeal for readers who favor in-depth character-centered stories, this is enthusiastically recommended."
—Library Journal (starred review)
"There are a few reasons you should read Brando Skyhorse's The Madonnas of Echo Park this year . . . a fresh . . . and authentic . . . writer to shake . . . controversy through the discerning scrim of first-person fiction. . . . If timeliness and social relevance don't sell you on the book, then read it for its beautifully imperfect characters, the wise certainty of its prose, its satisfying emotional heft— the basic things we hope for when we pick up a novel . . . elegantly written. . . . The book cleverly expresses the tangled nature of multicultural identity and the physical geography of off-the-grid Echo Park. . . . The thing about tortuous roads and confusing intersections is that we often find ourselves returning to the place where we started, even when we think we've left it forever. And while many of us might see this as a lack of progress or hapless water-treading, Skyhorse celebrates it as a kind of hopeful recovery."
—The Brooklyn Rail
"[A] potential best-seller. . . . [Skyhorse] has a way with fiction, as he demonstrates in this lovely debut novel about Mexican-Americans in LA. The engaging storytelling, informed by a keen understanding of contemporary immigrant life, is reminiscent of Junot Díaz and Chang Rae-Lee."
—Vanity Fair
"In its depiction of what amounts to a parallel social universe The Madonnas of Echo Park provides a master class in nonlinear narrative, written with imaginative generosity and emotional precision, poignant, brutal, and refreshingly unsentimental. Brando Skyhorse has what can't be faked: talent. His book is an understated triumph."
—Glen Duncan, author of Death of an Ordinary Man and I, Lucifer
"The hard, bitter grit of life in Echo Park, especially for women, is made quite wonderful by warmth and bright color, humor and compassion; in its keenly felt insight into the human condition, Echo Park is the world: this is who we are, like it or not. Altogether a terrific book by a highly accomplished new author — where has he been?"
—Peter Matthiessen, National Book Award-winning author of Shadow Country and The Snow Leopard
"Brando Skyhorse writes with great compassion and wit (and a touch of magic) about the lives of people who are often treated as if they are invisible. The stories that make up this novel weave together to create a complex and vivid portrait of a Los Angeles we seldom see in literature or film. The Madonnas of Echo Park is a memorable literary debut."
—Dan Chaon, author of Await Your Reply
"In this gorgeous and suspenseful book the admirably talented Brando Skyhorse takes his readers to a kingdom that he has made very much his own, Echo Park, California. I loved reading about his richly imagined characters, both Mexican and American, and how their lives intersect with our much more familiar versions of Los Angeles."
—Margot Livesey, author of The House on Fortune Street & Eva Moves the Furniture
"A beautiful sweep of Los Angeles, told through multiple viewpoints that showcase Brando Skyhorse's breadth. The Madonnas of Echo Park is a terrific journey, where characters re-emerge unexpectedly until by the end, the book has created a full and vivid world."
—Aimee Bender, author of The Girl in the Flammable Skirt and Willful Creatures
"In this insightful book, Brando Skyhorse reveals himself to be a trenchantand passionate observer of the forgotten underclasses of Los Angeles. He's fashioned a desperate La Ronde for Echo Park and a requiem for the '80s."
—Glen David Gold, author of Sunnyside and Carter Beats the Devil
"[A] most entertaining first novel. Skyhorse certainly nails the people and the spirit of the very vibrant historical neighborhood of Echo Park. It is more than just a part of old Los Angeles, it is a character in its own right that you want to truly befriend by the end of the book. The Hispanic men and women who live, love and die in those streets are made palpable and rendered genuine thanks to the deep consideration that the author has for them. Nothing sounds false or forced in these stories that are funny and heartbreaking, surprising and affecting. It is a familiar truth all the while becoming an original evolution of people and place, each of them always moving to the music that makes their dreams."
—Marie du Vaure, Vroman's, Pasadena, CA
"Reminds me of Olive Kitteridge/Chris Cleave . . . In teading The Madonnas of Echo Park it's like each chapter could stand alone as a short story; however, each chapter fleshes out more of the storyline which reminded me of Little Bee. The book was truly amazing."
—Susan Barthold, Barnes and Noble, Jenkintown, PA
"What can I say? S&S has discovered another truly gifted writer. I really, really, loved this book. The lives of the unseen people, bus drivers, cleaning ladies, waiters etc., are shown to be as colorful, meaningful, and intense as the most famous among us. I loved the way this author could take a simple enough subject, such as looking for a lost dog, and make it interesting and real! The image of the little Madonnas, singing on that street corner will remain with me for some time. These people became real for me and I cared deeply about what happened to each of them. I became lost in Echo Park, longing for a place I'd never been, the sights, sounds, smells . . . This book will definitely become a book club pick for us, as there is no lack of discussion material. Thank you, Wendy. A five star rating for you and the book!!!!!!!"
—Margaret Holdman, Borders, St. Louis
"With spare tight prose and spare tight pieces, Brando Skyhorse takes LA's Echo Park and raises it to the level of, say, Lethem's Brooklyn or Proulx's West. With a bit of Marquez's magical realism and a lot of heart, Skyhorse presents us with a side of Mexican American life often ignored. Diverse voices wind together and apart to good effect, with a bittersweet close."
—Jenn Northington, Breathe Books, Baltimore, MD
"I just finished The Madonnas of Echo Park and wanted to write to you as soon as I collected my thoughts— Not so easy since it resonated on so many levels. It is truly a beautiful book and Skyhorse captured so much that is unique about LA better than I have ever seen done before. He got the smog-filtered light, the smells that mix desert and ocean, and the particular gravity of a place where everybody comes from somewhere else, no matter how long they've been here. I loved how each story added tiny layers to the previous stories as you saw them flitting across in the background. So many books have painted a great picture of 30's LA that people still carry around in their heads. And I've read some good ones of contemporary LA, but mostly Westside-type affluence. The Madonnas of Echo Park really shows the huge percentage of LA life that people have no idea about but which really is a major contributor to this city's "feel." It's that mix of dreams and disasters that create the LA that people feel but don't understand why they feel it, if that makes sense . . . How can such a sunny place be so dark?? And btw, who knew that Morrissey was such an icon in LA's Mexican subculture?"
—Kristine Williams, Barnes and Noble, Encino
"The Madonnas of Echo Park is an extraordinary book. I was captured by the writing — ease with storytelling, lively lyricism, and unforgettable characters. I can't recall a novel that captures the spirit of a place so well. Through his attention to generational stories, Skyhorse strikes a perfect balance between nostalgia and looking forward. I finished reading it a couple of days ago, but I have just gone back and reread the first couple of chapters. It is so interesting to read, now that I know how their lives intersect, seeing all of the background characters, knowing now that they have captivating stories of their own. The book, it seems to me, is unique in its structure, the community it describes, but mostly it is unique in its quality. And what characters! Aurora Esperanza, Rosa, and Duchess are unforgettable. The bus driver, the hustler, the lady who speaks to the Virgin Mary, poor Mrs. Calhoun, Hector, Juan, and the many many others who live in the neighborhood (live in the book) are each drawn with such care and attention."
—Mark LaFramboise, Politics & Prose, Washington, DC
"What a wonderful book. It brings to the forefront a people who are virtually unnoticed by society, something I never realized. More than that, this book truly shows how intertwined our lives really are by leading us through a journey of everyday lives and revealing how entangled we truly are with each other, even complete strangers. I literally could not put it down."
—Lisa Hartman, Barnes and Noble, Willow Grove, PA
"I absolutely loved The Madonnas of Echo Park! I was teary-eyed . . . The stories ravel together like a string of kites, each one intertwining and tangling with the next, until they have become one, aggregated mass of colors . . . lives, histories, relationships that somehow all make sense. I love how everything comes together . . . .vignettes that make sense once the characters' paths cross — completing the mystery and filling in the holes that leave the reader feeling both reconciled and even a bit addled at the connections and relationships. Beautifully written . . . .and even more beautifully woven. I'm looking forward to his next book."
—Guinevere Platt, Vroman's, & Communications Manager, SCIBA
"Thank you so much for sending me The Madonnas of Echo Park. What a powerfully well written book. Each chapter connects to another making the characters so vibrant and real. Skyhorse shows Mexican-American life so colorful and intense that you feel that you are right there in Echo Park. What an important book this is! Thanks again."
—Jennyfer Davis, Barnes and Noble, Long Beach, CA